This gorgeous fun loving wedding come to us from Canadian photographer Erin Wallis, You will remember her from another recent wedding 'A Canadian Celebration'. This time she brings us this adorable, fun loving Autumn wedding. Such gorgeous little details, especially those adorable 'Dinosaur' favors. Laura the bride shares with us her story of the "most amazing day ever" and gives up and coming brides some wonderful ideas below. Enjoy.When Mark proposed I was wearing fleece moose pajamas… We are a fun spirited, goofy, quirky couple and wanted our day to be a recollection of us. We didn't want anything to feel stuffy or formal, we wanted our day to be laid back and for everybody to have a great time. Going for a casual backyard feel we chose to have our ceremony in my parents yard, it's a naturally beautiful place and required little in the way of decorations.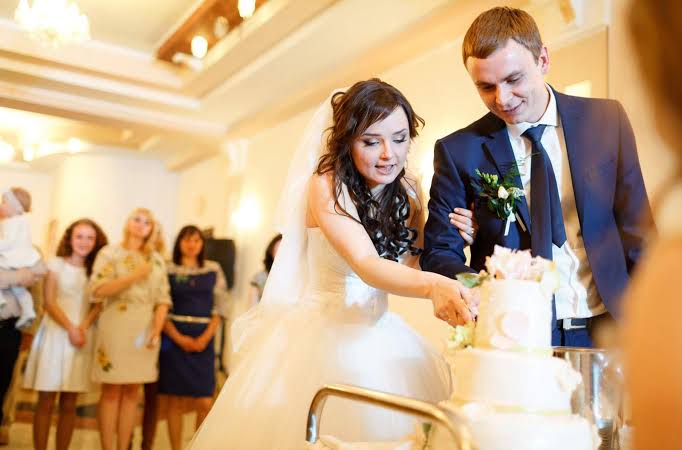 I began collecting ideas and searching online through wedding blogs for ideas. The planning process was a lot of fun. We found things we liked and ran with it. Honestly the hardest part was picking a song to walk down the aisle to (I ended up picking Jungle Drum by Emiliana Torrini, a song we had come across while planning a trip to Iceland earlier in the year). We co-created our ceremony with our celebrant. There was cheering, laughing, shedding of happy tears, rings lost in the dirt, honoring of our parents, jokes told, and being pronounced husband and wife by all our family and friends! It was a labour of love and our favourite part of the day. We were extremely fortunate to have very talented family and friends willing to lend a hand. Our cake made by one of my aunts was to die for! Pure lemon raspberry goodness. Another aunt decorated my parents yard where the ceremony was held and made our tent look like a piece of art with burlap and flowers.
She also decorated the side of my parents house using fishnet, flowers, berries, feathers etc. Our graphic designer friend Kathryn designed our invitations, dinosaur RSVP cards, and dinosaur stickers for our favor boxes. My dad cut the slabs of wood for our centerpieces and our cake platter. My advice to brides planning their weddings now is to have fun with it! It's a day about you and your significant other, the most important thing is that at the end of the day you'll be married to the person you love the most! Get organized early. Book the big things well in advance (photographer, venue, caterer) that leaves lots of time to work on the other details. Don't sweat the small stuff because little things WILL go wrong. Your DJ could play the chicken dance even though you asked him not to, you could stress about it OR you could flap your wings and enjoy yourself! Most of all cherish every second of it because the day will fly by! It honestly was our best day ever!!
Dress
Paloma Blanca. Shoes: hers- ordered from Anthropologie, his-custom designed/ordered from converse. Bridesmaids: dresses ordered through sposawedding. Tent rental: All in one party shop. Venue: Maritime Heritage Centre. Officiant: Celebrant Barbara Densmore. Flowers: Sarah of Coast Flowers Campbell River. Cake: Cathy of Gabriels' Attic. Decorations: Middle Ground Folk Art and Floral. Thanks so Much Erin Wallis. We Love.