1. You'll Want To Wash 
If you are planning on wearing your hair in a plait as part of a structured look, whether you're on your way to a Wedding or simply keen to experiment with a new daily do, you will want to wash with the right Shampoo and conditioner. This will help to tame stray strands, and make hair manageable and easy to interweave.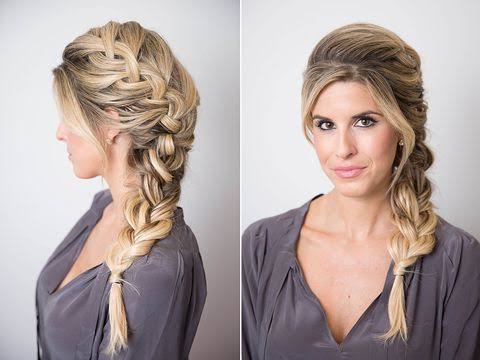 2. Pay Attention To Your Ends
If you have long hair with slightly dry tips, it's a good idea to treat these before you get on with your plait; dehydrated ends sticking out the bottom of a braid tend to look a little like a bunch of straw. Try Moroccan oil, the daily leave in treatment, it's magic.
3. Pre Style
Be sure to add some volume to your hair, either with your blow wave or using hot rollers in the crown, this will give you a good base to work with. Very strong finishing sprays can leave your hair feeling unnaturally 'crunchy' and looking hard. Avoid this effect by working a styling mousse through your hair before you do your blow dry. Smooth out unruly hair using a flat iron, or add curls to fine or limp hair to add extra volume.4. PRODUCT PLAN – If you have long, unruly hair, you will need to make sure it is smooth and knot free before you get on with your braiding. Use a detangling agent or oil to smooth out the strands and remove any knots. If you plan to smooth out with an iron before hand be sure to use a spritz of heat protection.
4. Braid Away
Get creative, braids can be worn in so many different ways, I use braids a lot to keep my fringe out of my face whilst exercising. Some stunning up styles can be created using braids. Try tying your hair in a ponytail, and loosely braiding three separate braids into the pony tail. Secure each braid only half way down the strand then pull the braid apart. This will create loops, and a disheveled look, you can then pin up the ends by wrapping them in different directions around the pony tail base. So fun, excellent for long hair and anyone can do this. I do this style a lot on my brides and bridesmaids.
5. Finish
The plait is the foundation for so many hairstyles and if you are going to use it as part of a complex look, you'll achieve the best result if you don't skimp on preparation. Hopefully, my list of 6 tips for a beautiful braid will help you to get your hair looking Super Glam.EXTRA TIP – If braids aren't your thing, you can create some gorgeous beach curls by using braids. Section your hair into 4 sections at the back and 4 sections at the front. plait each section separately. Using a light hold spray, lightly spritz the hair. Now using your hot iron, start at the top and heat the braid from top to bottom, continue with each braid, wait for them to cool, only about a minute. take each braid out, brush the hair and use a light styling spray, spray onto your hand and scrunch the product into your hair. another great product is beach spray, a salty spray that will give you the just left the beach effect.
Written By Victoria
Lindrea– Freelance Hairstylist New Zealand.
Images From Top
left Sharon Blain Braid, centre Braid image Pinterest, right Mark Leeson from the UK, left B&W image Pennyweight, centre fffound, right Pennyweight, left Wedding chicks, centre Utah bride blog, right citified blog, bottom left Laced in wedding, bottom centre Bodena, bottom left Oncewed, bottom Victoria Lindrea. Check out Love My Way's Pinterest for more beautiful hair images. enjoy.