Happy Saturday Lovers Downunder. It's been a while since I've posted a wedding on a weekend, But gorgeous bride Katie sent me this wedding during the week and I couldn't help myself, they had such an awesome story and it reminded us that no matter what the weather, you can't change it and you can still have the most amazing day. They had splashes of sunlight, Rain, wind and snow and they still managed to come out with these gorgeous images, shot by Handmade Photography. Enjoy the Love. "Our trip started off with a bang with half of the guests flying over from Melbourne to Queenstown for a boys weekend.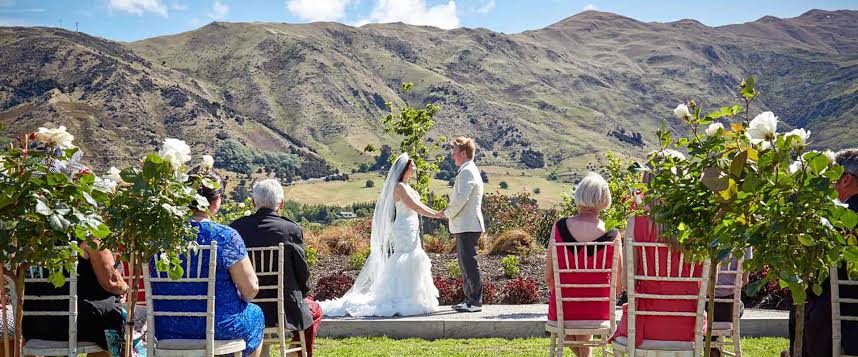 The girls followed a few days later but a snow storm prevented us all from landing in Queenstown and 22 of the women and children diverted to Auckland for the night, missing the hens day in Wanaka's wine country. We suffered a couple of casualties over the boys weekend with 2 of our friends suffering snowboarding injuries and needing hospitalization and 2 missing of them the big day." "The day of the wedding proved to be the worst day of the week for weather, right in amongst the long awaited storms the South island had been praying for. Our ceremony got moved to inside 'The Lookout Lodge' at the last minute and me (the bride), got out of the wedding transport at the venue and ran down the hill veil and train in her hand as didn't want to get drenched and wouldn't wait for help, I just ran!"
We had such an amazing turn out with 67 people traveling from all over Australia, the North Island and even Scotland for our big day. We felt very blessed that so many travelled so far for us. Our beautiful son Rafael was a big part in our ceremony and celebrations. Vendor Love – Catering- Forte Food, Wanaka (AMAZING), Venue- The Lookout Lodge Wanaka, Dress- The Bridal Atelier Geelong, Australia by designer Ivy and Aster, Flowers- The Green Room, Photographer- Handmade Photography & The Amazing Travelling Photobooth, Celebrant- Glenys Logan, Bridesmaids- Girls own, Hire- Wanaka Party Hire, Accommodation for guests- Lakeside apartments & The Moorings, Cake- Gibstone Cheese Factory, Macarons- J'aim Les Macarons Christchurch.