High school sweethearts Sarah and Andrew are sure to wash away those Monday blues with our little slice of delight brought to us by CJ Williams photography. Happy Monday Lovers xoxo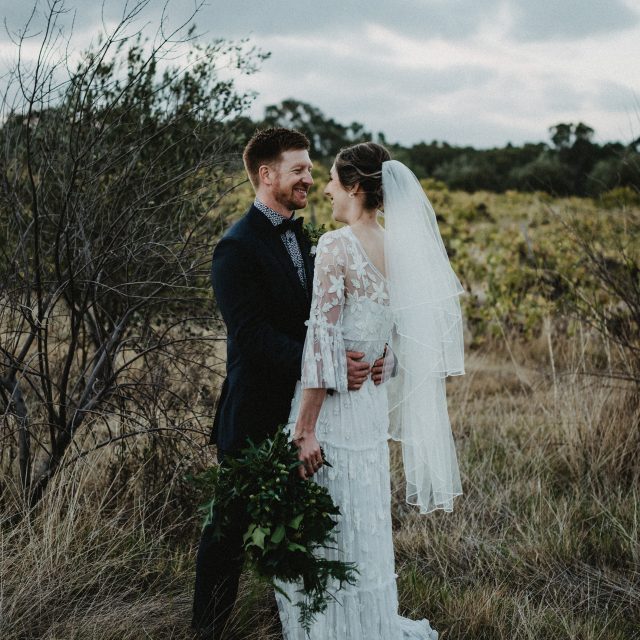 How did you meet?
Andrew and I went to high school together. We were friends and then got together when we were 17. We always joke that we kept waiting to get sick of one another but it never really happened!
What was your proposal like?
Very sweet and unpretentious, at home with some lovely flowers. We didn't tell anyone for two weeks while we waited for the ring to be sized, and this was very difficult but also kind of fun to have a secret!
 What 3 things were most important wedding day?
We really wanted the day to be relaxed and low key. We had both always been adverse to very traditional, formal weddings and that whole scene just did not feel like us. We were so pleased when we found that one of our old favourites, and a most iconic Western Australian location, Little Creatures, had quite recently opened a beautiful function space on the water in Fremantle. Andrew is a musician so it was important for us to have a great band and we were lucky enough to have one made up of his friends and colleagues. The dance floor really went off which was so much fun. Over time I became pretty excited about having really nice rustic flowers and couldnt have been happier with how they turned out.
Theme / Style / Inspiration?
We were hoping to keep things as relaxed as possible. I could never imagine myself in a full length gown, and my lace tea length dress was perfect! We wanted things to be a bit rustic and undone, and loved the scratched up wooden tables and vintage furniture at Little Creatures. I had fun doing some crafting and our florist Anna from Botanica Naturalis helped to set things up beautifully.
Any advice for future brides?
We got engaged in October and married in April. We were going overseas for a lengthy holiday in April and just thought what the hell – lets go for it!. Long engagements are not necessary and planning a wedding relatively fast is both do-able and a lot of fun! My other main piece of advice would be if you are someone who has strong personal taste then stay true to yourself. I found it easy to be decisive and get things done because I know what I like. Also, there will probably be a point where you feel a bit manic – it's normal and will pass.
Photographer
Carly Williams photography | Ceremony: Lawn at the Roundhouse, Fremantle | Venue: Little Creatures | Celebrant: Glenda Ferguson | Florist: Botanica Naturalis | Dress & birdcage veil: Made to measure by Paula and Jo | Makeup: Milla Makeup | Shoes – Rachel Simpson | Bridesmaid's Dresses- Review | Groom's Suit – Jack London | Groomsmen – Roger David